Victory Outreach Leadership School Syllabus
Developing leaders who radically lead others to Christ
Victory Outreach Leadership School
Developing leaders who radically lead others to Christ
Academic Syllabus : 3 Lines of learning (in class)
1 leadership (Tuesdays)
2 Pastoral Ministries (Wednesdays)
3 Biblical studies (Thursday)

There will be assigned videos for each area of the 3 areas of study every week. It is the responsibility of every intern and resident to either complete the weekly study/course by attending class or watching the online content. Upon completion of every study/course a
"Course Cap" will need to be filled to gain a make of completion. Please see course schedule for more information.


A). CLASS: Every Intern will take full Course load (In or out of class). Weekly classes will be posted in the class messenger for all to follow along
B). Leadership LAB: Every Intern will have a placement that will grow their ministry gifting
C). Mentorship: Every Intern will be expected to attend a once a month mentorship meeting


A). CLASS: Every Resident will take a full course Load in class onsite Tuesday Wednesday and Thursday.
B). Leadership LAB: Every Resident will have a placement that will expand their leadership ability
C). Mentorship: Every resident will have the opportunity to sit down with the leadership for a mentorship meeting once a month
1). Reckless love (Study)
2). Contrarians guide to knowing God (study)
3). The New Catechism Course (52 mini sessions)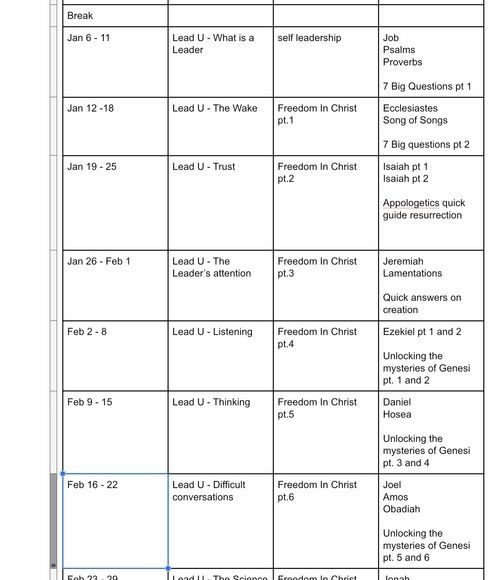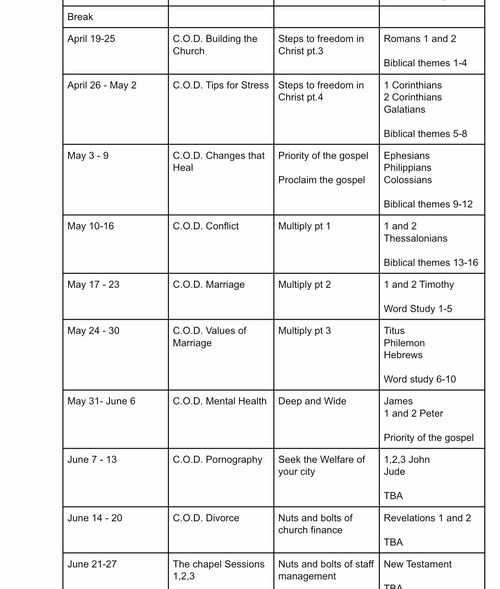 Class Cap - For each day of scheduled classes each intern and resident is expected to finish a "Class Cap" (for the date). The form is found within the Victory Outreach APP. The course load will be marked as complete once a course cap is finished for each date.
1). Classes will be marked as complete or incomplete. Interns and residents will be expected to complete a Course Cap for every video and live Course they do.
2). Leadership Lab: Students will be evaluated on their ability to actually lead, organize, get and institute vision and bring growth to the ministry and those they minister to and alongside
3). Attendance: Students will be evaluated on their attendance to expected functions
a) Interns and Residents are expected to attend their home church, leadership functions, leadership labs at least 80% of the time to attain a passing grade.
b). Residents are expected to attend 80% of classes to attain a passing grade.
4). Christian character and ministry competency: Students will be evaluated on the Christ like character and ministry competency